Mastering Phishing Defence: A Deep Dive into Hut Six's Phishing Simulator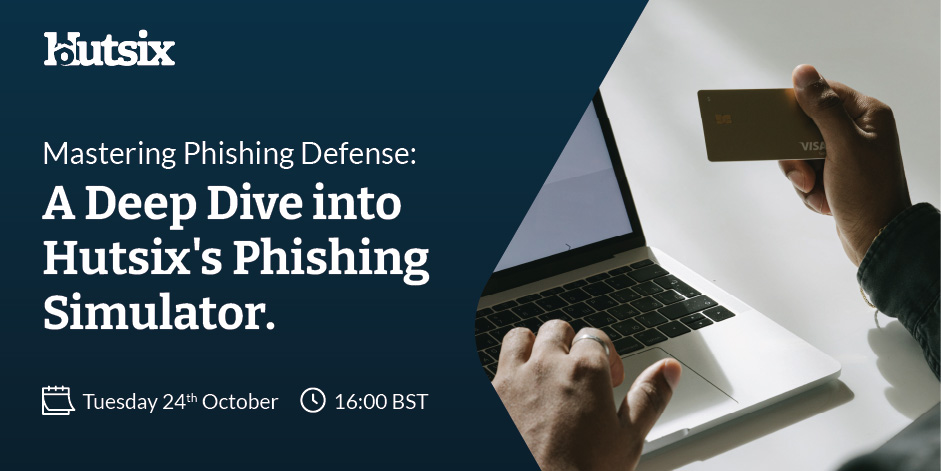 Insights, practical solutions, and a glimpse into the future of phishing defence.
Welcome to an insightful exploration of the ever-changing landscape of cyber threats and the cutting-edge tools devised to combat them. Join Patrick, Hut Six's Digital Learning Designer, as he embarks on a 30-minute journey delving into the vital subject of phishing and new functionality within Hut Six's phishing simulator software.
Watch to uncover the essence of phishing, where cybercriminals employ fraudulent communications to deceive individuals into divulging confidential information. Patrick, takes a deep dive into why we need to guard against phishing, what is the best approach, and what tools do you need to get started?
Phishing is no ordinary threat; statistics reveal its alarming prevalence and potential repercussions. With 83% of organisations attributing their cyberattacks to phishing, it's evident that this menace demands immediate attention.
Key Takeaways:
Define phishing and dissect the anatomy of phishing emails.

Examine alarming statistics that underscore the significance of phishing defence.

Share a real-life case study illustrating the financial and operational consequences of a phishing attack.

Dive into the world of phishing simulations and their role in improving staff readiness.

Hear from clients who have harnessed phishing simulations for transformative results.
But that's not all!
You'll also gain an exclusive tour of our new phishing simulator software and a sneak peak into our most recent scenario-based training course that is in development.
Witness first-hand how this tool empowers you to create realistic, organisation-specific phishing scenarios.
Phishing attacks are constantly evolving, and so are the strategies to counter them. Don't miss this opportunity to stay ahead of the game.
To see how we can help you improve your security awareness program and take it up a level you can schedule a meeting with us below.