Cyber Security Awareness Training
Your First Line of Defense
Protect your organisation
Achieve compliance
Empower your people
Create a secure culture
Why your organisation needs security awareness training
Security awareness training in 2023
In 2023, the reality is that any organisation has the potential to fall victim to a cyber attack. Despite many technical measures that help mitigate this risk, your people are the simplest attack vector for malicious actors. They are your first line of defence.
With the right knowledge, many of these human errors can be easily addressed. Cyber awareness tackles risks including phishing, poor passwords, ransomware attacks to multistage data breaches.
Human error consistently plays a role in information security incidents. With an increase in ransomware and phishing threats businesses need to include security awareness in their network security strategy.
Reasons to invest in cyber security awareness training
Employees and teams are now working remotely more and more. This increases your security surface area as well as blending people's work and home lives.
Now more than ever are you reliant upon your people making the correct choices in the face of security decisions. Investing in security awareness reduces cyber risk. It also enacts your security policies, as well as helping your employees in their personal lives.
Hut Six's Security Awareness Training solution reduces the risk of a successful cyber attack. Preventing financial losses, damage to reputation, potential fines and litigation. As a result cybersecurity training is on every board's agenda.
Key Cyber Awareness Stats
Increased Incidents
The number of cyber security incidents caused by insiders has risen by 47% since 2018.
Higher Cost
The average annual cost of insider threats increasing to £8.32 million.
Prevalent Breaches
39% of businesses and 26% of charities report having cyber security breaches or attacks in the last 12 months.
Expensive Recovery
Organisations spend around £2.9 million recovering from security incidents, with malware recovery costing a shocking £3.4 million.
Widespread Phishing
According to UK government research, in 2021, 83% of businesses experienced phishing attacks against their organisation.
Insufficient Training
77% of all UK workers have never received any form of information security training from their employer.
To protect your organisation you have to start with the people.
What is Security Awareness Training?
Cyber awareness training enables people to recognise threats to the business and act correctly.
Security awareness software helps prevent breaches from human error. As well as matching your technical defences with a culture of security. So often your people are an attackers first target.
Reduce cyber risk and protect your business
Comprehensive reports on security awareness levels analyse what your users know and how they would react to phishing attacks. Not to mention increasing your incident reporting by enabling your staff to recognise security threats as they happen.
Hut Six's training solution provides continuous value, is automated where possible, and provides a tailored experience.
Why is Security Awareness Training Needed?
Increasingly security awareness is part of your compliance obligations. It prevents financial and brand damages from successful cyber-attacks or data breaches. And protects your sensitive data by educating the people who process it.
Effective awareness training programs help you gain cyber security certifications for your business. What's more they help achieve compliance with GDPR, ISO 27001, SOC 2 and Cyber Essentials.
Achieve compliance and demonstrate security
Cyber security training modules for your employees are a necessary part of any risk management strategy. They demonstrate to clients and potential customers a commitment to ensuring robust cybersecurity.
Hut Six's cyber security awareness training program is designed to help you fulfil your compliance obligations.
How does Security Awareness Training work?
We empower people to improve cybersecurity in their personal lives. Hut Six believe people deserve to be educated about the cyber threats they face at home and in the workplace.
If you can make a personal argument for security it will have a far great impact upon them. By teaching people how to secure their social media profiles, home WiFi and protect their family you will secure your business.
Empower your people and create a secure culture
Help them to protect their own personal information, and they in turn will help you protect yours. Surprisingly, corporate Security Awareness Training doesn't have to be so corporate.
By teaching people how to avoid phishing attacks, social engineering and ransomware you can improve their personal cybersecurity. Making it personal is more likely to change behaviours, reduce security risks and create a security culture.
What makes Hut Six training different?
High Quality Training Content
High quality content with the right tone and style is very important to change your users actions. We deliver ongoing training with multiple years of content in our online course. This ensures a continued learning experience for employees.
Our cyber security awareness course for new clients features twenty-six comprehensive tutorials covering all aspects of information and cyber security. The training course is constantly updated with best practice and the latest case studies.
Hut Six specialises in detailed tutorials which cover the foundations of security awareness in an engaging and universally understood tone. Every learning object is an interactive tutorial in which users put their education into practice.
Each year of content builds upon the last maturing your security awareness program. Each module covers essential areas of staff awareness. Cloud-based, online tutorials take ten minutes or less to complete, and cover threats commonly faced in the workplace.
An end user cyber security course with training topics that address every aspect of the human factor. You are able to choose your own schedule for cyber awareness training modules to fit your organisation and immediate risks.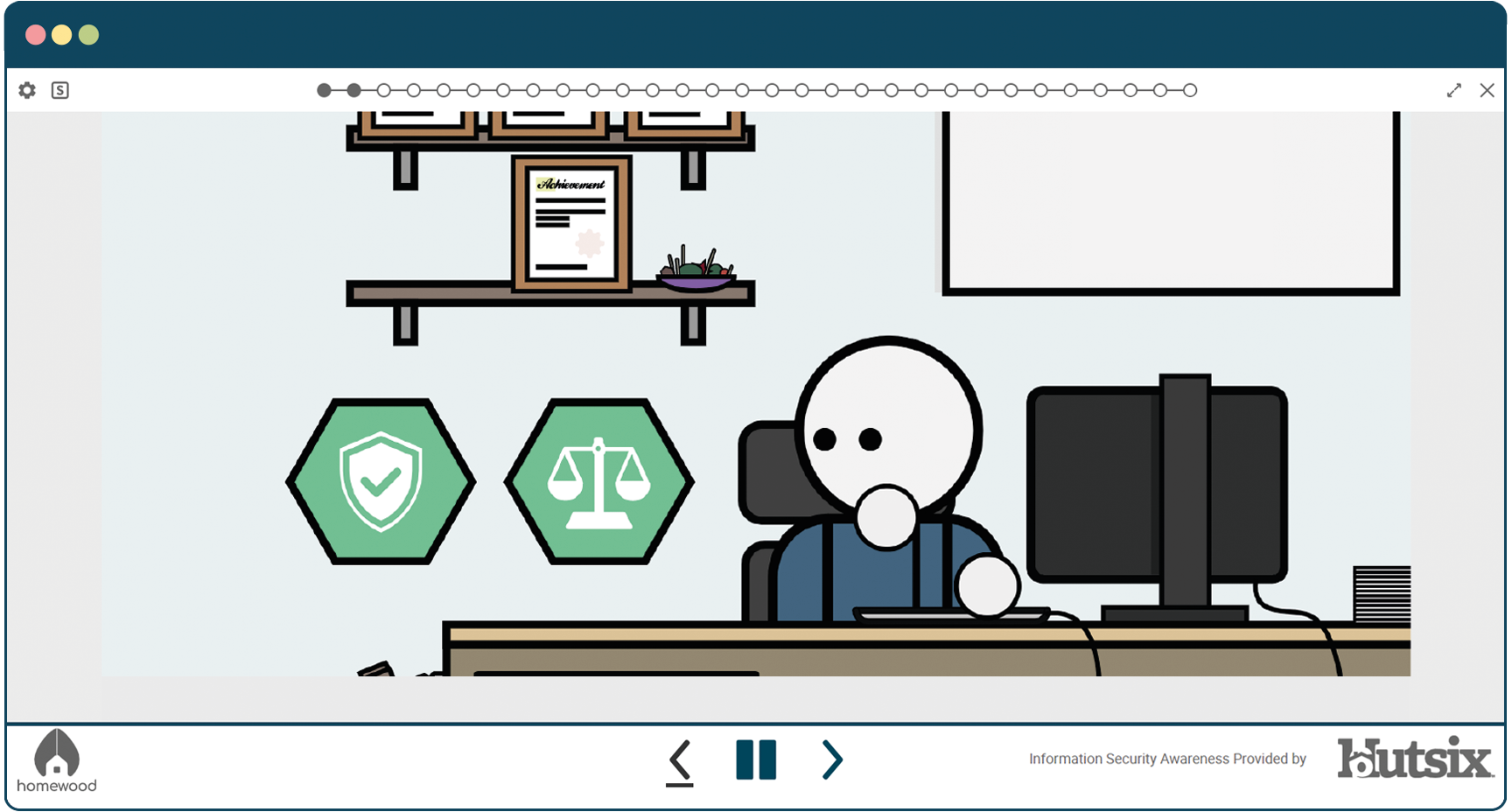 Customised Security Awareness Training
Hut Six's enterprise level Security Awareness Training can be customised to your requirements. Tailoring your solution to your security policies and practices with custom questions and automatic placeholders.
Case studies and interactive tasks for an engaging experience that builds security knowledge. Moreover, scenario based tutorials with a narrative that changes depending on the user's responses.
Hut Six is fully accessible to those with visual or auditory impairments. Upload your own video and .pdf content to the Hut Six security awareness portal.
Incorporate your look and feel with custom branding and colour pallet options.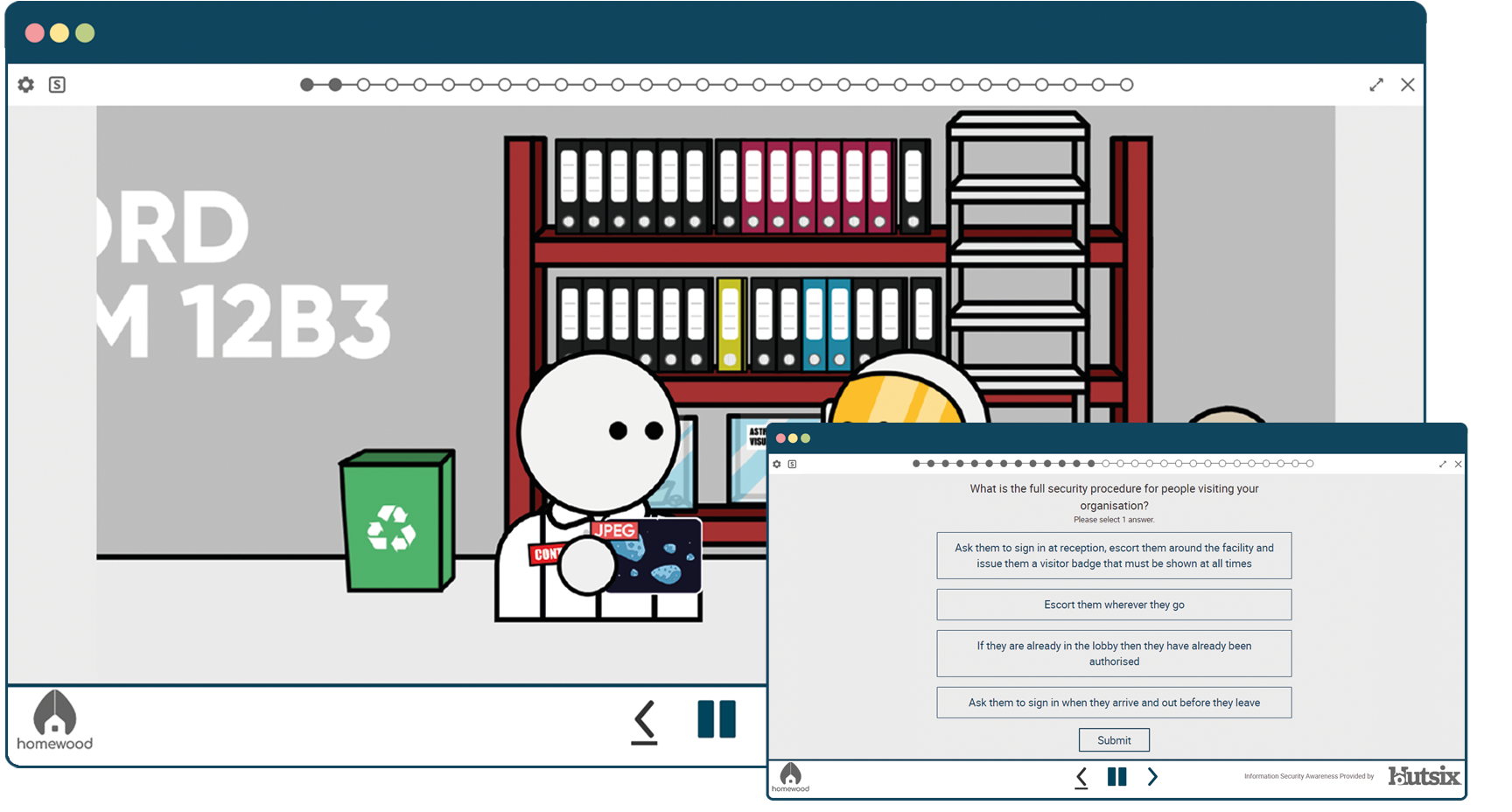 Measurable Behaviour Change
All-in-one security awareness platform with training, phishing simulation and learning management system. The Hut Six Learning Management System provides admins with an informed view of their security awareness.
Exportable reports configurable to user groups and security risks. See metrics for each employee, the whole organisation or configurable user groups.
We enable you to take a data driven approach to the human aspect of your security program. Set custom tutorial release schedules that suit your organisation.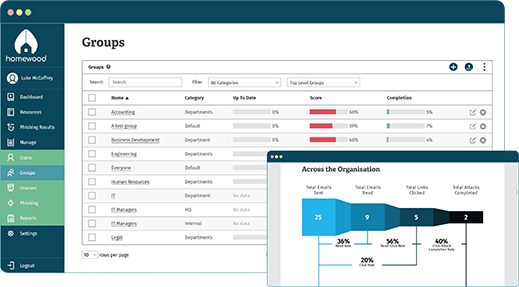 Ready to start building a secure culture within your organisation?
Start your Free Trial
Sign up for a free, 14-day trial. Experience the platform and show it to your team before making any decision with no payment details required.
Book a Meeting
Meet with one of our team for a walk through of our phishing email simulator and to help us gain an understanding of your security awareness requirements.
LMS Integrations
Integrate with other learning management systems via xAPI/Tincan. Complete our tutorials and view metrics within your own LMS.
Active Directory
Synchronise your users and groups with Active Directory and map directly to your own structure.
Single Sign On
Integrate with Azure Active Directory, Google Workspace, Okta, and other SSO providers with SAML 2.0.
Integrated Phishing Simulator
Hut Six's phishing simulator tests your employee's response to the most common form of cyber-attack: Phishing emails. Our solution is seamless integrated into our cybersecurity awareness training. Easily customised templates help educate employees against spear phishing, ransomware and BEC.
Latest Blogs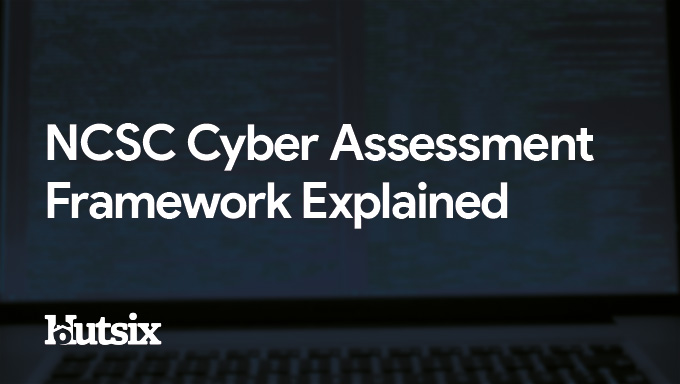 The Cyber Assessment Framework (CAF) is used for evaluating and improving cybersecurity measures. It encompasses principles such as security monitoring, proactive threat discovery, and incident response planning.
Hut Six's Information Security Awareness Training
Features
Comprehensive cyber security course with refresher modules

Fully animated and voiced modules

Add custom questions to assess your workforce

Real-time reporting dashboards

Automated scheduling, notifications and alerts

Single Sign On and Active Directory Integrations

Built in-house Learning Management System with xAPI integration

Mobile and tablet compatible

Fully accessible and conformant with WCAG 2.1 level AA

Subtitles, high contrast and screen reader compliant
Benefits
Change employee actions with increased cyber security awareness

Reduce risk of successful cyber attack via the human factor

Demonstrate understanding of policies through custom questions

Achieve Compliance with ISO27001, Cyber Essentials, GDPR

Simplify the security audit process with simple training metrics

Measure the cyber security awareness risk to your organisation

Target at-risk users with additional refresher modules

Regular and concise training maintains awareness in your organisation

Create a secure culture within your organisation

Customised training which addresses your specific workplace culture
Speak to us about your Cyber Awareness