Public Sector Cyber Security
Your Shield Against Cyber Threats in the Public Sector
Secure your government organisation
Ensure regulatory compliance
Empower your people
Create a secure culture
As seen on GOV.uk
Hut Six's Public Sector Cyber Security Training Solution
Features
Comprehensive Cyber Security Course with Regular Updates
Engaging Animated and Voice-guided Modules
Customisable Assessment Questions for Workforce Evaluation
Real-time Reporting Dashboards for Immediate Insights
Seamless Integration with your Learning Management System (LMS)
Mobile and Tablet Compatibility for On-the-Go Learning
Accessibility Features: Subtitles, High Contrast, and Screen Reader Compatibility
Benefits
Transform Employee Behaviour with Elevated Cyber Security Awareness
Mitigate Human Factor Risks in Cyber Attacks
Achieve Compliance with Industry Standards such as ISO27001, Cyber Essentials, and GDPR
Simplify Security Audits with Streamlined Training Metrics
Gauge Cyber Security Awareness Risk within Your Organisation
Tailored Training for Your Specific Workplace Culture
Targeted Refresher Modules for Vulnerable User Groups
Starter
For business that just need to cover cyber awareness basics.
Includes:
Cyber Awareness Basics (6 Modules)
Auto-tailored Content
Phishing Attack Library
2 Simulated Attacks per User/ Year
Access to Built-in Reports
Professional
A comprehensive curriculum with regular phishing simulations.
Includes everything in Starter, plus:
Cyber Awareness Accredited (21 Modules)
Email Support
Feedback Tools
Single Sign-On
4 Simulated Attacks per User/ Year
Enterprise
Multi-year curriculum with unlimited phishing simulations.
Includes everything in Professional, plus:
Interactive Scenario Refreshers
External LMS Intergrations
Phishing Editor
∞ Simulated Attacks per User/ Year
Automatic Day/Week/Monthly Reports
Key Cyber Awareness Stats
Increased Incidents
The number of cyber security incidents caused by insiders has risen by 47% since 2018.
Higher Cost
The average annual cost of insider threats increasing to £8.32 million.
Prevalent Breaches
39% of businesses and 26% of charities report having cyber security breaches or attacks in the last 12 months.
Expensive Recovery
Organisations spend around £2.9 million recovering from security incidents, with malware recovery costing a shocking £3.4 million.
Widespread Phishing
According to UK government research, in 2021, 83% of businesses experienced phishing attacks against their organisation.
Insufficient Training
77% of all UK workers have never received any form of information security training from their employer.
To protect your organisation you have to start with the people.
Experience Hut Six's Unique Approach
Quality content: engaging, comprehensive, universally Understood
Customisation: tailor training to your policies, practices, and look
Behaviour change: measure and improve user actions with detailed metrics
Seamless integration: LMS, active directory, single sign-on, and phishing Simulator
LMS Integrations
Integrate with other learning management systems via xAPI/Tincan. Complete our tutorials and view metrics within your own LMS.
Active Directoty
Synchronise your users and groups with Active Directory and map directly to your own structure.
Single Sign On
Integrate with Azure Active Directory, Google Workspace, Okta, and other SSO providers with SAML 2.0.
Integrated Phishing Simulator
Hut Six's phishing simulator tests your employee's response to the most common form of cyber-attack: Phishing emails. Our solution is seamless integrated into our cybersecurity awareness training. Easily customised templates help educate employees against spear phishing, ransomware and BEC.
Latest Blogs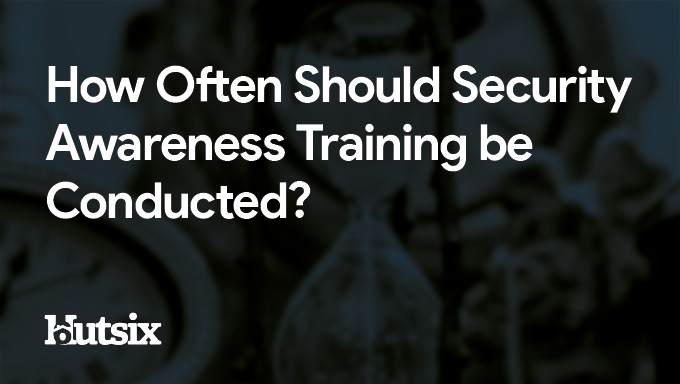 In the face of increasingly sophisticated cyber threats, organisations must invest in employee security awareness training. But how often should this training occur for maximum effectiveness?
Building Secure Futures, Together!