Top 10 Essential Information Security Awareness Training Topics for Employees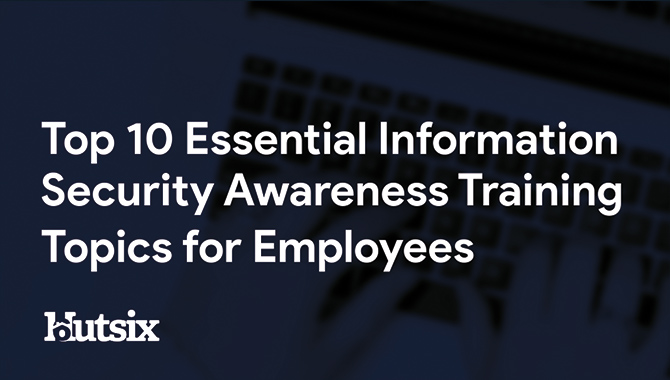 What Security Awareness Training Topics should you start with? When it comes to information security, organisations are maturing moving past box-ticking compliance and towards creating a secure culture. Though, security awareness training isn't always the most straightforward topic to teach.
Whether you are building a mature ongoing security program or just beginning with a cybersecurity awareness month. These end user security awareness topics for employees is a good place to start when coming up with security awareness program ideas.
Top cyber security awareness topics:
One reason for cyber and information security training becoming a workplace necessity is the rate at which security threats evolve. Cyber attacks are increasing in number, with 4 in 10 of UK businesses reporting a cyber security breach or attack . The costs have risen as well with a data breach damaging finances, customer confidence, reputation and more. Security awareness training is on every boards agenda.
Security Awareness Training Topics to Cover with Employees
These fundamental topics are essential to protect your people not only at work but in their personal lives at home too. You always start developing a security awareness program by choosing the right learning courses. It's important that theses modules treat your users with respect and are more than just pocket guides for information technology.
Phishing
Phishing attacks are designed to fool users into handing over information. Phishing is a form of social engineering attack. It is often executed over email but increasingly within social media, SMSs and other instant messaging services. Attackers will try to get you to click on a link or hand over your personal information.
Spear phishing attacks are a more complex variation of the standard phishing attack. Attackers have even started intercept invoices, payment requests and extremely sensitive communications that earn them a big reward.
Spear phishing attacks are difficult to spot and far more costly. They demonstrate the need for robust information security awareness training, and their personal nature make them a great training tool.Simulated Phishing campaigns enable you to test your in their inboxes.
Web Safety
Web safety is all about how we conduct ourselves online. Enabling users to recognise malicious websites and avoid them. Without an understanding of how a web browser works it is easy to make decisions that compromise security.
The first stop is the URL (Uniform Resource Locator) which consists of scheme (https://), domain (www.example.com), path (/path1/path2/page). Understanding the makeup of a URL and what a malicious webpage looks like is crucial to a end user security awareness.
By teaching people best practice for activities like Social Media, online banking and shopping you will greatly improve their personal cybersecurity.
Password Security
Just about every system, network and device that we now value requires passwords. It can be a struggle to remember all of these credentials. This leads to two factors that weakens our password security: length and reuse.
The multiple use of passwords essentially reduces all your accounts security down to that of the weakest. As databases are constantly under attack, it's advised to use novel passwords for each account.
Another basic rule of password creation (if you're not using a password generator) is to use 4 unrelated words. Though it may sound simple, just think of the amount of possible combinations. As well as this, multi-factor authentication should also be used for sensitive accounts.
Malware
Malicious software can make its way onto our device and into our networks in many ways, though phishing emails are usually malware's way in. By clicking on suspicious links, users can be directed to unsecure websites. Opening malicious files and attachments can do untold damage to your systems and data.
Malware can come in many forms:
Spyware - collecting sensitive information by monitoring your activity
Adware - clogging your device up with advertisements
Ransomware - taking your data hostage often in exchange for cryptocurrency
Malware can cause an extraordinary amount of damage to any network. It is important to defend your organisation with anti-virus software, as well as with vigilance and training,
Mobile Devices
Mobile devices often represent such a significant security risk, in large part because they are indeed mobile. We now store a great deal of sensitive and confidential information within our devices. As such, any unauthorised access is a big cyber security threat, inside and outside the office.
Ensure employees have their devices password protected and adequately encrypted. It guarantees that if the device is lost any sensitive information won't be simply passed into the hands of malicious actors. Also, remote wiping features should be considered, just in case of the device being lost or stolen.
Wi-Fi
Though Wi-Fi can seem safe and convenient, Wi-Fi can pose a substantial risk to information security and confidentiality; particularly public networks.
With relatively simple, off the shelf software, attackers can easily intercept data transferred to public networks. This is known as a 'man-in-the-middle' attack. If a network is not secure (i.e. not password protected) then the chances of that network being safe to use, is very low.
If your employees absolutely have to make use of public Wi-Fi networks, ensure that your organisation has a VPN solution. This will allow users to transfer data securely through an 'encryption tunnel'.
Social Engineering
Social engineering attacks are utilised by malicious parties, hackers and criminals in a vast majority of information security attacks. This topic should be considered a must-have for any security awareness training program.
Ranging in their approach, social engineering attacks all rely on the manipulation of people in order to extract valuable information. This can include phishing emails, quid-pro-quo exchanges and even physical interactions, such as tailgating.
Encryption
We all rely on encryption, whether it's the data sent across our networks, the information we enter into websites or apps, or even securing content on our devices. As a form of cryptography, encryption is a process that obscures information from non-authorised parties and allows you and your employees to communicate via confidential channels.
Organisations are increasingly responsible for making sure the personal information that they hold on customers and individuals is properly stored and secured. The main method of doing so is encryption. For employees to be security aware, the fundamental methods of encryption must be understood.
Backing Up Data
As encryption will help to ensure the confidentiality of information, the practices of backing up will guarantee that your data will remain available, even after an attack. Security awareness campaigns aren't just about stopping attacks, they're also about safeguarding information in the eventuality of an attack happening. Ensuring business continuity.
We've all been in the position of having accidently deleted or lost a document or removable media. At its best, this can be very frustrating; at its worst, the loss of data can be catastrophic to an organisation. In building a secure culture, employees should be trained to understand this IT Security topic as a part of their routine. You should outline their individual responsibilities directly when addressing this cyber security awareness training topic.
Sensitive Information
Many of us are constantly dealing with sensitive information of one kind or another. Sensitive data can be business secrets, intellectual property or even personal medical data. Each of these data categories may be subject to different regulations, though all require a security aware mentality to properly protect.
Often physical security plays a part of this top security awareness topic. Ensuring that your visitor, clean desk and access management policies are all known and followed is important.
Confidentiality is essential to any business, and without the proper information security training, employees are bound to make mistakes.
There are many ways an organisation can protect its sensitive information. Such as access control, to make sure the availability of the information is restricted to only authorised parties. Though the most important is identifying the types of information your organisation is handling, and what your responsibilities are.
Security Awareness Ideas
When building your security awareness training content, a good place to start are these 10 information security awareness topics. However, in order to start changing behaviours, your efforts shouldn't just be focused for one cyber security awareness month. You need an ongoing awareness training solution that addresses human error and conveys real value to your people.
Security Awareness for your Organisation
Enjoyed our blog? Learn more about how Hut Six can help improve you security awareness with training and simulated phishing. Start a free trial now, or book a meeting with one of our experts.
Featured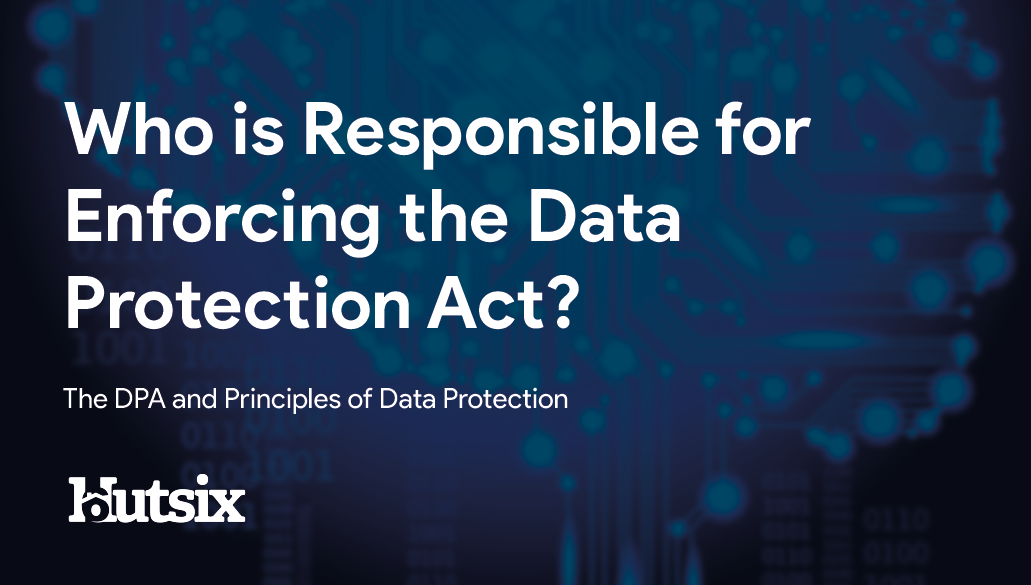 Who is Responsible for Enforcing the Data Protection Act? Information security awareness blog by Information Security training provider Hut Six Security