ISO 27001 Security Awareness Training
Information Security Awareness Training and ISO 27001: There is no shortage of options when considering data protection guidance and compliance standards, and depending on your industry, region etc. there are likely several potential choices for you and your organisation.
One of the most popular standards for UK or Europe-based organisations is the ISO 27001, and for many operating within the United Kingdom, 27001 is a standard that is recognisable, trusted, and obtainable.
Though when we are considering information security, compliance is not the whole story, and building a secure culture to work within a given security framework is one of the best methods of mitigating risk and establishing robust and comprehensive information security.
If you are looking to become ISO 27001 complaint, it is essential that you begin by thinking about how information security awareness training can help in your journey.
What is ISO 27001?
ISO 27001 (or ISO/IEC 27001:2013) is a widely known compliance standard for information security.
Jointly published by the International Organization for Standardization (ISO) and the International Electrotechnical Commission (IEC), ISO 270001 is one of several standards that make up the ISO 27000 family.
ISO 27001 is predominantly focused upon high-level information security concerns, and evaluating risks to information assets, such as intellectual property and IT systems, are just a few requirements of getting started with ISO 27001.
This focus on the foundations of information security means that by meeting ISO 27001 standards, an organisation is often closer to also meeting other compliance standards, for example the Payment Card Industry Data Security Standard (PCI DSS) or the US Health Insurance Portability and Accountability Act (HIPPA).
ISO 27001 is also considerably more globally recognised than, for example the 'equivalent' SOC 2, which is usually considered to be more closely associated with North America.
ISO 27001 Compliance
To become ISO 27001 compliant, an organisation must meet many requirements, including providing employees with awareness training.
"All employees and relevant contractors must receive appropriate awareness education and training to do their job well and securely. They must receive regular updates in organisational policies and procedures when they are changed too, along with a good understanding of the applicable legislation that affects them in the role."

ISO 27001, clause A.7.2.2
As well as this, in providing this "appropriate awareness education", an organisation must also be able to demonstrate that training and compliance to auditors; further advising that organisations carefully consider how the awareness training gives staff "the best chance of understanding and following it" – meaning careful attention to content and medium of delivery.
Ultimately, without staff training you cannot expect to achieve ISO 27001 certification.
Information Security Awareness Training and ISO 27001
The process of preparing for ISO 27001 should begin with a foundation of education. Training your staff on a variety of information security topics, so they can effectively act as the frontline to your information security defence.
While there are many companies which provide some level of in-house training, led by internal information security professionals or experts, specialised online information security training offers a variety of options for training, testing, and tracking your employees.
From detailed tutorials imparting the foundations of information security practices, interactive tutorials in which users put their education into practice, to simulated phishing campaigns, online information security training is increasingly the choice for organisations wanting to get serious about their security.
All of these specialised online information security training features allow an employer to not only provide their staff with necessary training, but to also monitor users' progress and demonstrate compliance. Giving an organisation the tools to quantify and understand where weaknesses may lie.
Having robust information security awareness training tools such as these, will both set you on your way to ISO 27001 compliance, but also contribute significantly to the mitigation of risk.
Security Awareness for your Organisation
Enjoyed our blog? Learn more about how Hut Six can help improve you security awareness with training and simulated phishing. Start a free trial now, or book a meeting with one of our experts.
Featured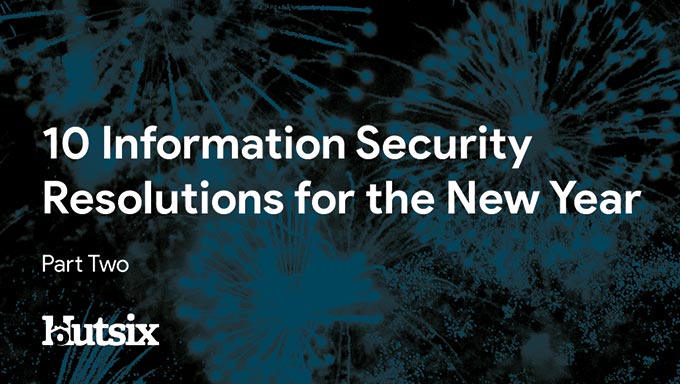 Information Security Resolutions for the New Year: Part Two. Information security for 2021 blog post by Hut Six Security.