A Few Cyber Tips for your Organisation
Improving SME Security
At a time when hardly a week goes by without a disastrous hack or breach making the headlines, information security can sometimes feel like an overwhelming issue.
As the cost and frequency of these attacks continues to rise, as well as the regulatory costs of non-compliance, businesses are under increasing pressure to ensure they are protected against hackers, cyber criminals, and human error.
It is worth remembering though, regardless of the current state of your business' information security, there are always concrete steps that can be taken to improve security. By breaking down information security into manageable areas, any organisation or SME can help better protect themselves from financial and reputational risk.
Fittingly, below are Hut Six's top five actionable tips to help your business' cyber security in 2022.
Security Awareness Training
It is estimated that somewhere between 90% and 95% of all cyber security breaches occur as a result of human error; errors which, given the right set of circumstances, could have otherwise been avoided.
By providing employees with up-to-date and relevant information, an organisation not only helps to mitigate information security risk and minimise the chances of falling victim to an attack or breach, but also demonstrates a commitment to improving their security to staff and key stakeholders alike.
Often a requirement of compliance standards, such as ISO 27001 or Cyber Essentials, providing the staff of your SME with information security awareness training should be viewed as an essential element of your broader security strategy.
Thankfully, in 2022, your options for information security training have never been better. While some smaller organisations/SMEs will opt for in-house training, many businesses are choosing specialist security training providers, with tailor-made online training more accessible than ever.
From simulated phishing campaigns, which test the practical skills of employees against real-world threats, to interactive tutorials covering a wide range of security topics, with customisable training, any organisation/SME can educate their staff against cyber threats at work and at home.
If you would like to take a deeper dive into preventing avoidable mistakes, here is a link to our blog: Human Error in Information Security.
Establish a Security Culture
Though security staff will play a significant role, information and cyber security is the responsibility of every member of staff within an organisation, and without the participation and efforts of everyone, potential risks will inevitably lead to real damage.
Although an organisation may provide their staff with information security related material, and even training, it is not uncommon for security to remain a problematic area. As such, specialists and security researchers broadly recommend organisations should aim to embed security within their culture, wherein secure behaviour becomes second nature.
With the help of the right security awareness training, along with a C-level commitment to information security, an organisation can help promote security consciousness to the point where secure behaviour is the instinctual norm for staff both inside and outside the work context.
Virtual Privacy Networks (VPNs)
The application of corporate virtual privacy networks (VPNs) has, over the last several years, become largely ubiquitous. Used so employees and staff can securely access remote services, such as organisational file servers, VPNs ensure that information and data remain secure when being access 'off-site'.
By using a virtual privacy network, data transferred across networks is passed through what is commonly referred to as an encryption tunnel, protecting your data and activity from anyone wishing to observe, record, or intercept it.
With organisations/SMEs increasingly operating with remote workforces, providing staff with secure VPNs (check out our Five Best VPNs for Work blog), and ensuring that they are being used correctly has never been more vital, yet many individuals and businesses still fail to acknowledge the very serious security threat presented by something as seemingly innocuous as public Wi-Fi networks.
If you would like to learn more about Wi-Fi network security specifically, here is a link to our popular blog covering the topic: Top 5 Wi-Fi Safety Tips: The Guide to Staying Secure.
Software Updates
Regardless of your industry or business, your organisation almost certainly relies on a wide variety of different software, most of which will undoubtedly be subject to regular updates.
While new vulnerabilities are constantly discovered, developers work to guarantee that these potential exploits are patched quickly and effectively, though if businesses are not implementing these updates, they are left susceptible to attack.
Although this may sound somewhat basic, proper update management is an information security essential which helps mitigate all kinds of risks, such as viruses, breaches, or even ransomware.
Relevant to all devices, protocol is necessary to keep software up to date and secure, with updates made within a sensible timeframe of when they become available. This cyber practice is one which no business or SME can afford to neglect.
Risk Management
Although the concept of risk management is far from novel, applying the principles of risk management to information security should be a primary concern of any organisation seeking to improve its security posture.
In 2022, when the average cost of a data breach has increased to $4.35 million, information security vulnerabilities can no longer be seen as mere inconveniences and should be acknowledged as the existential threats that they are.
From assessing and ranking the various information related elements of your organisation, to ensuring appropriate systems to manage technological vulnerabilities, information risk management should not only compliment the way in which other business risks are managed, but also be embedded as a fundamental element of an organisation's management approach.
Security Awareness for your Organisation
Enjoyed our blog? Learn more about how Hut Six can help improve you security awareness with training and simulated phishing. Start a free trial now, or book a meeting with one of our experts.
Featured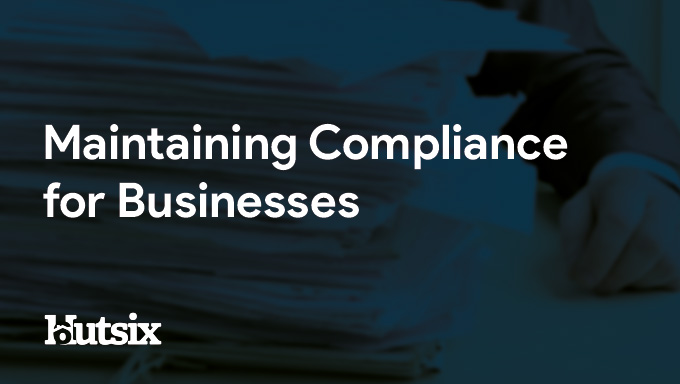 By maintaining compliance for your business you can ensure operational efficiency, reduce financial risk, enhance public trust, engage your employees and realise your mission.