Maintaining Compliance for Businesses - Guest Blog
When you are managing a business, your mind is probably more focused on the customers, the level of service, and the margin of profit. Ensuring compliance with government-mandated regulations may be the furthest thing from your mind.
However, ignoring these regulations can be costly for your business. A report by IBM reveals that the average cost of a data breach can go up to $3.62 million. If you are managing compliance properly, your business can stay ahead of issues before they become a major problem. Here are some of the benefits of compliance management for your business, particularly if you operate in the healthcare industry:
Reduces Legal Problems
If you only have profit on your mind, you should also consider complying with federal regulations. Certain industries are required to comply with federal regulations to protect sensitive information. For example, organizations that receive, maintain, store, or transmit patient's health information must ensure they meet all the HIPAA compliance requirements. Apart from the negative press, a HIPAA violation can result in a $1.5 million fine per year and other legal settlements for an organization.
Improves operational efficiency and safety
Many rules and regulations can rather benefit your business more than they can harm you. For example, rules regarding discrimination and harassment in the workplace can help you create a better working environment and enhance employee's productivity. Following safety and security rules can help prevent injuries, accidental fires, or building evacuations that can compromise your profitability. In addition to learning the bare minimum that organizations need to do to meet legal requirements, you also need to review suggested business practices to strengthen and safeguard your company's operations that are provided on agency websites, such as the U.S. Occupational Safety and Health Administration and U.S. Equal Employment Opportunity Commission.
Enhances Public Relations
One of the benefits of meeting legal obligations is that it improves your company's reputation in the eyes of the public, regulators, and other stakeholders. You can tout your achievements on your website and your marketing campaigns. For example, you can include the fact that you are an equal opportunity employer when you post a job advertisement and you do not discriminate based on race, gender, religion, etc. It also makes the decision-making process easier for regulators and stakeholders when they perceive that the company has a high ethical standard and practices. Medical societies, payers, healthcare systems, etc., have stated in public forums that they tend to view companies who meet legal obligations in a different light.
Fosters Customers Trust
Arguably one of the most important contributing factors to your profitability is the trust you build with your customers. Indeed, it is the customers that keep your business running. When you comply with federal regulations, customers will know that you care about keeping their information safe. For example, a HIPAA compliant healthcare provider will be able to easily gain their patients' trust and the patients' too will know that their personal health information is well protected. While lawsuits and fines damage a company's reputation, a record of compliance will show that the company is running a trustworthy operation.
Better Employee Engagement and Retention
Employees can jeopardize your company's compliance efforts. Sometimes a breach takes place when an employee inadvertently leaves his work desktop unattended or opens an email that should have been deleted. Mobile devices can also compromise your security efforts. For example, if employees access sensitive information from their personal mobile or laptop devices, then there is a possibility that a breach may occur. As you work on your security for compliance, you also need to bring your workforce in the process. Employees play an important role in protecting sensitive data. You need to create an opportunity to teach your employees why and how to secure sensitive information and you can also consider offering incentives to those who follow the rules. A company with a strong sense of responsibility and positive culture can attract and retain talented employees.
Helps To Realize A Company's Mission
A company's mission statement usually includes information about corporate responsibilities, the importance of patients', and the benefits they bring to society. Not behaving in ways according to their stated values can not only render them useless but also damaging. Many compliance rules and regulations help a company to act in ways that are consistent with those stated values. This is because well-designed policies and procedures also tend to address a company's internal and external aspirations and not just external laws and regulations. In simple words, it is not just about legal obligations, but doing what is right.
Riyan N. Alam is currently working as a Digital Marketing Analyst for M2SYS Technology, a cloud-biometric company. As a heath-tech enthusiast, Riyan frequently blogs in RightPatient and CloudApper.
Security Awareness for your Organisation
Enjoyed our blog? Learn more about how Hut Six can help improve you security awareness with training and simulated phishing. Start a free trial now, or book a meeting with one of our experts.
Featured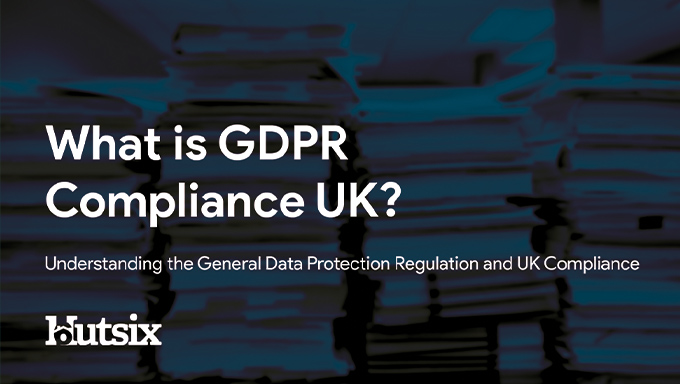 What is GDPR Compliance UK? Understanding the General Data Protection Regulation and UK Compliance. Blog by Hut Six Security.